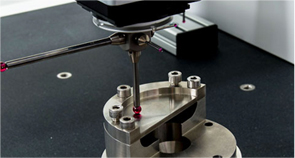 QUALITY ASSURANCE
MENA Precision precisely follows Quality principles and Quality Management System. The documented quality management system has been completely implemented and conforms to ISO 9001/2008 "Manufacturing of precision machined components and associated assembly " standards.
We follow the principle of "Get it Right First Time"
QUALITY CONTROL
MENA Precision ensures, through our documented QMS and rigorous inspection processes, that all products manufactured or repaired in our facility are fully inspected "in process" by our fully trained operatives and also during a final inspection by our Quality Control experts to ensure that all products that leave our facility are as per customer requirements.
MENA Precision offers a full range of state of the art inspection equipment including:
CMM (co-ordinate measuring machine)
Full range of Gauge maker
Exhaustive amount of Plug and thread gauges
Full range of micrometres up to 20inch 0/D
PMI Inspection capabilities
Certified coatings inspection [NACE]
Our range of equipment is comprehensive and investment in new machine tools is constantly under review to maximise our capabilities.
All our Employees have gone through extensive on and off the job training, in Quality Control SO 9001/2000 standards, Machining Techniques, Mathematical Integration, gauge reading, Print Identifying/Tolerances, CNC control/Programming and on site safety training. A good number of employees have also been trained Mastercam, Solidworks and calypso.
Quality Lab
Metrology:- Coordinate-Measuring Machine (CMM): The CMM is used is used to obtain exact measurement of a component (accuracy of 2 microns) using scanning and single point probing.
A CAD-based software is integrated with the machine specially designed for creating a 3D model of the component to facilitate the reverse engineering process where the collected dimensions and geometric features can be used to regenerate the engineering drawings.
Portable Surface Roughness Tester:- Measuring surface roughness helps in determining the manufacturing process of which the product was executed in.
Complete set of Measuring Tools:- A wide range of high quality measuring tools are carefully selected to cover different measuring dimension for various product sizes. The inventory of measuring tools consists of digital micrometres and verniers, digital dial gauges, gauge blocks, radius and thread gauges, etc.